The Urchins have announced earth shattering news. It may surprise you all, but The Urchins enjoy reading. Yes, yes, I know you never would have guessed it from this list of favourite works or this list of past reads or this article, this article, and this article. But, it's true. In fact, today The Urchins brandished their feather dusters, pushed up their sleeves, and added new books to the shelf!
Geo's Currently Reading
The Tin Drum by Günther Grass
How's this for a story: An adult little person writing his life story from inside a mental hospital in Germany, from his grandparents to his mama meeting the two men, one of whom is his real father, to his own birth to his third birthday where he gets his very first tin drum and decides then and there that he will never grow up – and he doesn't – to the first World War and on to the next to his time with the circus and the time he got his very first love pregnant and how she stopped loving him shortly thereafter. Wild story, great story.
Next in Geo's Queue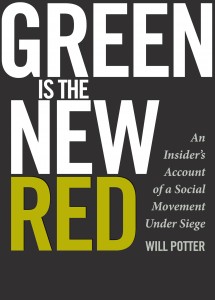 Green Is the New Red by Will Potter
An up-to-date crash-course overview of the history of radical environmentalism as well as a study on the scare tactics that the government, the CIA, and several multi-million dollar corporations use against environmental activists, which share certain similarities with tactics used during McCarthyism and the Red Scare. This book is about the Green Scare – this book is at times scary, at times hopeful, and at all times important.
Sarah's Currently Reading
Sharks in the Rivers by Ada Limon
What better way to kick off National Poetry Month than with my favourite modern American poet's new book? I first fell in love with Ada Limon after reading her poem Crush in The New Yorker and have been anxiously awaiting the release of her third book of poetry ever since. Sharks in the Rivers is a collection of beautiful and poignant poems strewn with imagery and themes of rivers and water. Limon has a transcendent way with words. I would highly recommend this collection to poetry novices and enthusiasts alike.
Next in Sarah's Queue
No Impact Man by Colin Beavan
The rest of this book's title reads 'The Adventures of a Guilty Liberal Who Attempts to Save the Planet, and the Discoveries He Makes About Himself and Our Way of Life in the Process.' When Beavan decided his paltry environmentally-friendly efforts were no longer enough, he embarked on a year-long commitment to make as little an environmental impact as possible. This included finding alternatives to toilet paper, electricity, and motorised transportation. This lifestyle of complete ethical immersion sounds infinitely appealing, and I'm hoping to discover applicable tips and ideas from Beavan's experiences. I have this book on loan from my coworker Krysta, who is about to start a year-long 'no trash' diet, meaning she will buy only in bulk using her own containers and produce no food waste (from packing, throwing away food scraps, etc.) Go, Krysta!
Margaret's Currently Reading
Jane Eyre by Charlotte Bronte
I have a reading list. A two-year long reading list, in fact, and Jane Eyre has been waiting patiently near the bottom for, oh, two years now. A classic in feminist literature, Charlotte Bronte's novel appears to be on the surface a standard Victorian work; our protagonist however, is anything but. When Jane falls in love with the arrogant (and sexy) Rochester, she seeks an equal standing in marriage and life, demanding quite a bit from him for the time. So, why did this book suddenly appear at the top of my list? Hollywood. A new film starring Mia Wasikowska, Michael Fassbender and Judi Dench (released 11 March) looks phenomenal and I clearly can't justify seeing the film without reading the book!
Next in Margaret's Queue
Travels with a Donkey in the Cevennes by Robert Louis Stevenson
Not gonna lie. I initially picked this book because of its title. And to my discovery, Stevenson was very much an early Urchin himself! To raise money for adventures, he decided to go on an adventure… with a donkey. Who doesn't love this guy? Travels with a Donkey details his 12o mile journey through France (yay!) with Modestine, his four-legged heehawing friend.